Zaffan: Youngest aviation Captain in Maldives
Mohamed Zaffan became the youngest Maldivian Captain in aviation, when he flew his maiden voyage as captain on Tuesday.
Having completed his pilot training in the United States (US), the 24-year-old joined the national airline 'Maldivian' in late 2015 as a first officer and started flying on February 2016.
According to an interview with local media Mihaaru, Zaffan stated that he felt a variety of emotions during the flight.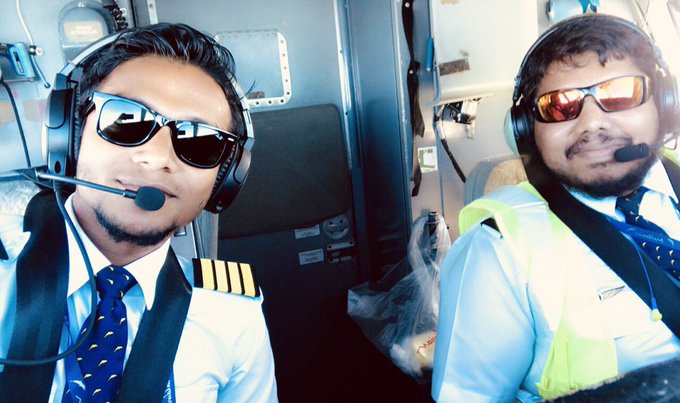 Congratulations on your first flight as the youngest Captain @Zeffern #NationalAirline #Maldivian
68 people are talking about this
National Airline 'Maldivian' tweets in response to Mohamed Zaffan's maiden flight as Captain. PHOTO: TWITTER
"I thought this was the culmination of years of hard work. I was overjoyed", said the Fuvahmulah City native.
In order to become a captain, pilots must log at least 2,500 hours of flight, and go through multiple tests and training. As such, Zaffan completed a two-week training in Madrid, Spain, in November 2018.
His captain's license was awarded by the Maldives Civil Aviation Authority following the training.
Mohamed Zaffan (2-R) and crew, after touching down on his maiden flight as captain. PHOTO: MIHAARU FILES
Zaffan, upon completing his A-level examinsations, was employed at the privately owned 'Flyme' as a ground staff. The eldest of Zaffan's four siblings revealed that his passion to become a pilot grew from that point onwards.