IFRC President commends Maldives initiative to reduce single-use plastic
The President of the International Federation of Red Cross and Red Crescent Societies (IFRC), Francesco Rocca has commended the Maldives government's initiative to minimize single-use plastic.
During a courtesy call paid on Maldives Vice President Faisal Naseem by the IFRC President at the President's Office on Monday morning, both Naseem and Rocca conveyed firm assurance to support and assist in elevating the existing levels of cooperation in the future.
Noting that the government's initiative to minimize single-use plastic manifests the government's commitment and leadership to build an environment-friendly, self-sustaining and resilient nation, the IFRC President urged the government to instill a good change globally through this example.
VP Naseem had expressed the government's appreciation for the generous humanitarian aid extended by the IFRC over the years towards risk management, responding to disasters as well as community development in the country.
He went on to express that there is potential scope to expand joint efforts in climate action, elderly care and youth empowerment. As such, he highlighted the nationwide community-based training programmes led by IFRS especially in the area of first aid.
Rocca also called on Parliament Speaker Mohamed Nasheed during his ongoing trip to Maldives.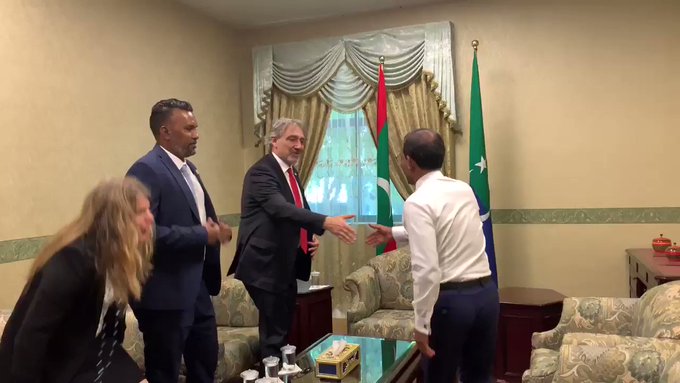 President of @ifrc Mr. @Francescorocca calls on Hon. Speaker, Former President @MohamedNasheed